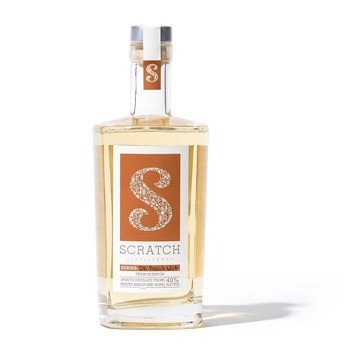 Barrel-Finished Bier Schnapps
Our Bier Schnapps series celebrates a relatively unheard of spirit outside of the brewers in Germany. We distill a beer into a brandy of sorts and then bottle it in a clear or barreled version. We love the opportunity to collaborate with our local brewers to create this unique, tasty spirit from their craft beers. Our inaugural series, which has long since sold out, was the Breakaway Spirit. Distilled from American Brewing Company's Breakaway IPA, this spirit was flavorful, full-bodied, and hoppy with a malty sweetness. We also produced a clear and a barrel finished version of the Breakaway Spirit.
Our current series (released early summer 2018) is distilled from Diamond Knot Brewery's Peach Wit and aged in a once-used Bourbon barrel. Soft fresh peach nose, subtle sweetness form the fresh peach puree and the Bourbon barrel it was rested in.