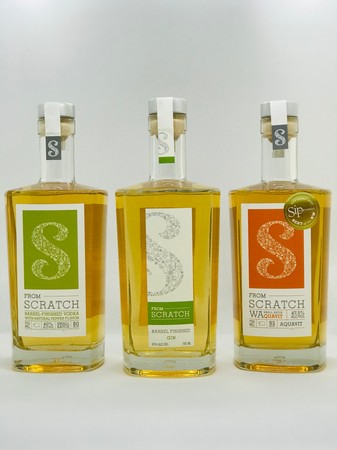 Barrel Finished Bundle
In this tasty bundle you get a chance to try some of our favorite barrel finished spirits! We'll send a mixer and some recipe cards along with your bottles for cocktail inspiration—each of these are wonderful on their own as well!
The Barrel Finished Gin begins with a recipe similar to our Martini Style gin, but we build up the cinnamon, nutmeg, heat, and juniper. Then, we finish the gin in once-used whiskey oak barrels. This gin-whiskey lovechild is a deliciously complex gin with notes of vanilla, cinnamon, and spice. Sip it neat or mix it up. It makes a wonderful old fashioned.
Our Barrel Finished Pepper Vodka matches the char of new American oak barrels with the savory, spicy, finessed-blend of jalapeño, serrano, red fresno, pink peppercorn, and black peppercorn to create a slightly mesquite bouquet. Great on its own or as a substitute for tequila in cocktails.
Our WAquavit was distilled from Washington soft white winter wheat, rested in neutral American oak barrels for six+ months, and infused with caraway, dill, cardamom, and orange peel. Great out of the freezer, in a cocktail (like our Ballard Bridge), or a bloody mary (aka Nordic Snapper).